Yes the most exciting day of the year has arrived – the new Annual Catalogue is now live – with the bonus that until about 9pm this evening you can order from BOTH catalogues, but the retiring one gets removed from the website tonight!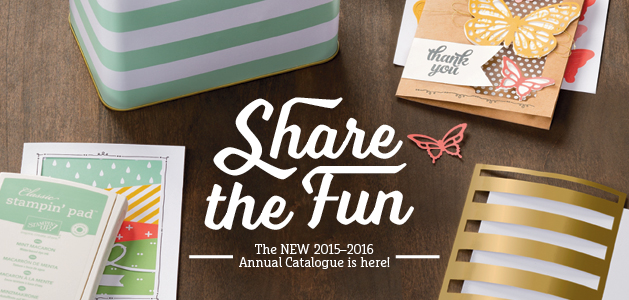 The catalogue launch party is full for the 2.30pm session, but there is still room in the 6-8pm session, but get in sooner rather than later as this is filling up quiver than anticipated – but then it is a bargain where for just $5 you get 3 make & takes, a new catalogue and refreshments.
If you have ever thought of joining my team (we have a lot of fun) and experiencing all the benefits of being a Stampin' Up! demonstrator, if you join during the month of June, in addition to all the normal benefits (see here for some FAQs and details) you get a bonus of your choice of TWO free stamp sets from the new catalogue! Basically for $169 outlay you get a 100% fully customisable kit that includes $235 of product, business builder kit and two free stamp sets – that's over $400 of value for just $169!