Yay I'm back blogging after a hiatus with my computers' graphics card going to techno heaven and needing to be replaced – I'm sure you'll all be glad of a break from my brown paper packing use posts as well (I wrote all of those in one day and scheduled them to appear over the following weeks with he plan to post other things in between, but that didn't happen did it!).
I love the versatility that stamping allows you to do, by looking at images differently or using different techniques you can use the same stamp set for a myriad of different occasions or uses. When I first saw the Snow Place stamp set in the Holiday catalogue, I knew I had to buy it just because of the penguin – my Cherub loves penguins! However now Christmas has passed I still want to use the stamp set, so here's what came about this week.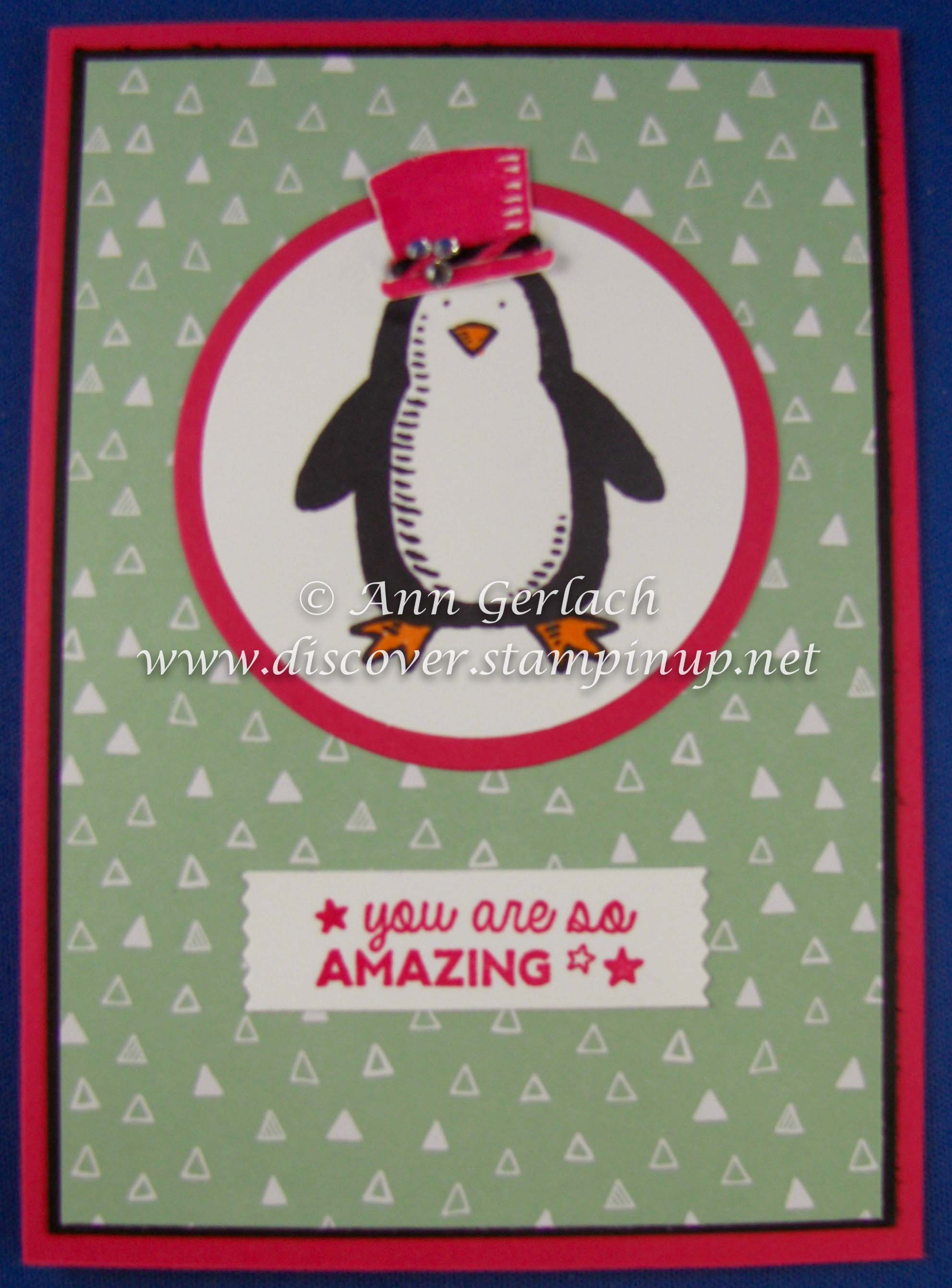 1. Stamp the penguin onto Whisper White card stock in Basic black ink and punch out with the 2 1/2″ punch
2. Colour the feet & beak with a Pumpkin Pie Stampin' Write marker
3. Layer onto a die cut circle of Melon Mambo card stock
4. Stamp sentiment and top hat in Melon Mambo ink onto scrap Whisper White card stock. Punch the sentiment out with the Washi punch and fussy cut the top hat
5. Add a piece of Melon/black Bakers twine and rhinestones to the hat
6. On a base of Melon Mambo, layer a piece of Basic Black card 14.3x10cm, then a piece of It's My Party designer series paper 14.1×9.8cm.
Of course I also stamped the envelopes to add some interest to the post peoples day!
Product List
Links by TheseAreMyStamps.com