We had a lot of fun in the recent school holidays with two classes to give children a creative outlet, the first class was themed for Mothers Day. We covered an A5 notepad and card that some made for their Mum's and others made for their friends.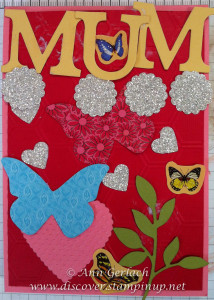 Butterflies and flower were the theme of the day – and what's not to love about glimmer paper? Sanding the coredinations card stock that had been dry embossed was also popular with the boys – they liked using "tools" like the Big Shot and the sanding block.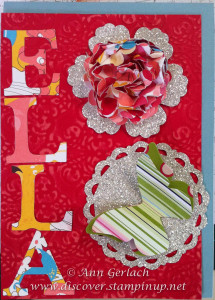 I loved the scrunched flower this student made using the 1 3/4″ scallop circle punch and them layering it onto a silver glimmer blossom punch.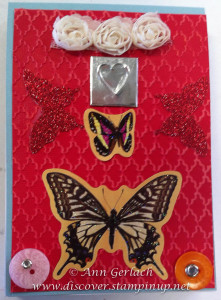 This also has to be one of the most novel ways I've seen to attach a button to a piece of card stock with a brad, but innovation was not about to slow this student down in their creative process.