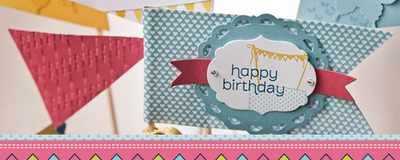 Well I have just finished packing to fly off in the morning to my first Australian Stampin' Up! Convention – that means ~700 demonstrators from all across Australia and New Zealand in one venue for 3 days! (Well 4 for me actually as I have a day of leadership for managers as well – so excited we also get a reception event to chat with Shelli!) Can you imagine the noise when they give us sneak peeks of new products coming in the next catalogue on July 2nd – you'll probably be able to hear us clear across Brisbane!
The first is a competition I am running is to win something FREE (not sure what yet as I'll be buying it this week at Momento Mall in Brisbane at Convention later this week) for the person who guesses how many free stamp sets I receive during my time at convention. I know as part of registration that we get at least one free stamp set, but the question is how many more I get as part of awards, door prizes, bonuses with SU! being generous as it's our 25th anniversary year (I have my fingers crossed for the later) so basically email or SMS me a number with your name before midnight on Sunday 26th of May and I will add you to the draw (if more than one person guesses the right number I'll think of something extra as a prize – or darn it I'll just have to buy lots at Momento Mall just in case!)
The second offer is that if you order online or by emailing/phoning me your order before June 15th using the hostess code RV94WAYH and if the sales total reaches hostess benefit levels I will be able to redeem extra product to share amongst those who ordered (this code closes June 15th 2013).
A third offer is that if you take advantage of the current offer to join my team before May 30th in addition to the bonus $60 I will add in an extra gift RRP +$30.
Have a super creative week – I know my head will be spinning with all the ideas by the time the weekend comes along!