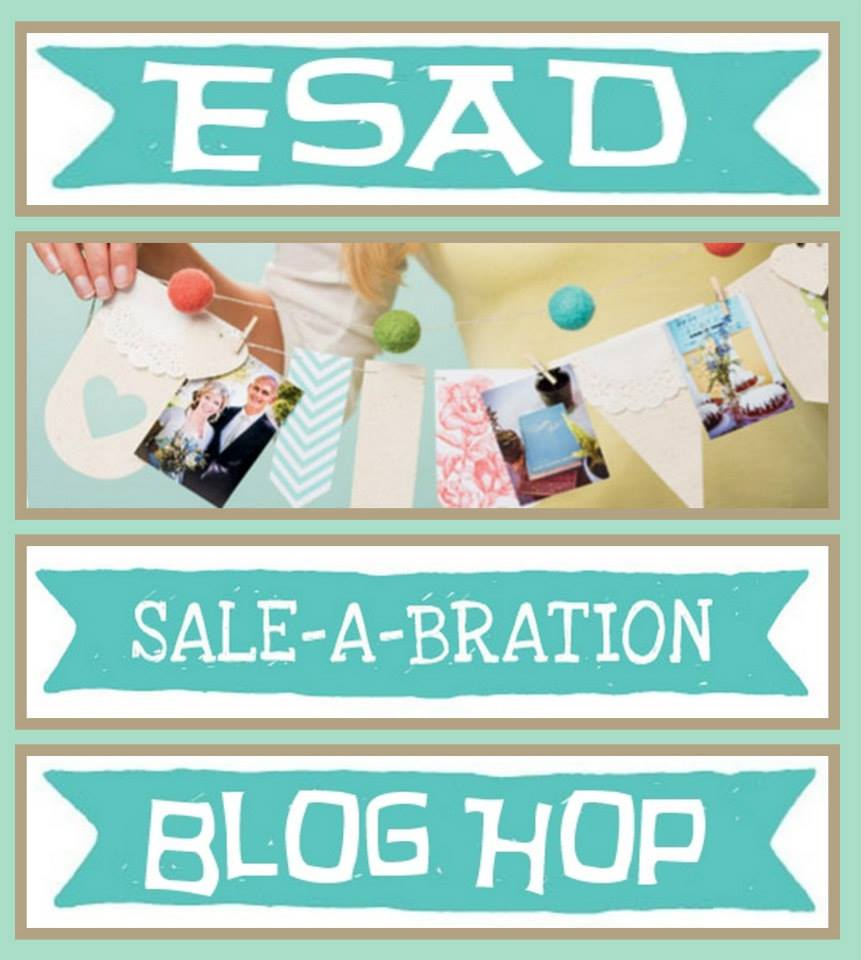 The most exciting time of the year is almost here! From January 28th until March 31st 2014, it is Sale-a-bration which means for every AUD$90 you spend as a customer you get a free item of your choice from the Sale-a-bration catalogue. Believe me there are a lot of items to chose from too! Of course there are bonuses for hosting a party as well, for parties reaching $500 in sales you can get an additional $50 in hostess rewards and if you join the Stampin' Up! family you can get an additional $20 of your choice of products in your starter kit, for more information and FAQs you can click here.
ESAD has put together a blog hop to celebrate and inspire you for the coming Sale-a-bration event, so go and make a cup of tea as there are 25 different blogs to check out for ideas, of course if you have any questions about anything please just ask me. So if you have started here, just click the links at the bottom of this post to take you to the next blog, otherwise I assume you joined me from Alisha's blog – wasn't her project lovely?
What is ESAD?
ESAD stands for "Extra Special Australasian Demonstrators" and it is an on-line group just for Australian and New Zealand Stampin' Up! demonstrators. We love what we do & love to share with our customers, friends, and wonderful blog visitors. We also share what we love in our ESAD Demonstrator community, through swaps, challenges, sharing knowledge, ideas & friendship, and we're always there to help and support each other.
 So if you are a Stampin' Up! demonstrator located in Australia or New Zealand, then please feel free to leave me a comment with your Email address and I'll contact you with information on how to join our wonderful group.
I chose to feature the stamp set See Ya Later in this blog post – I have used a few other Sale-a-bration items, but that was my focus. It is a quirky stamp set of 4 different sentiments suitable for a myriad of occasions. The first card was CASEd from a US demonstrator as I loved her use of Zoo Babies with the See Ya Later set (and Zoo Babies was on my desk from another project I made earlier today)! It does use the marker direct to rubber technique for the sentiment and the small heart is punched from the gold envelope liners in the Good As Gold Simply Sent Kit  (another Sale-a-bration item) with the Owl Punch and Candy Dots to add dimension (the surround of the sentiment banner was also gold foil, but the high shine of it didn't show up in the photograph).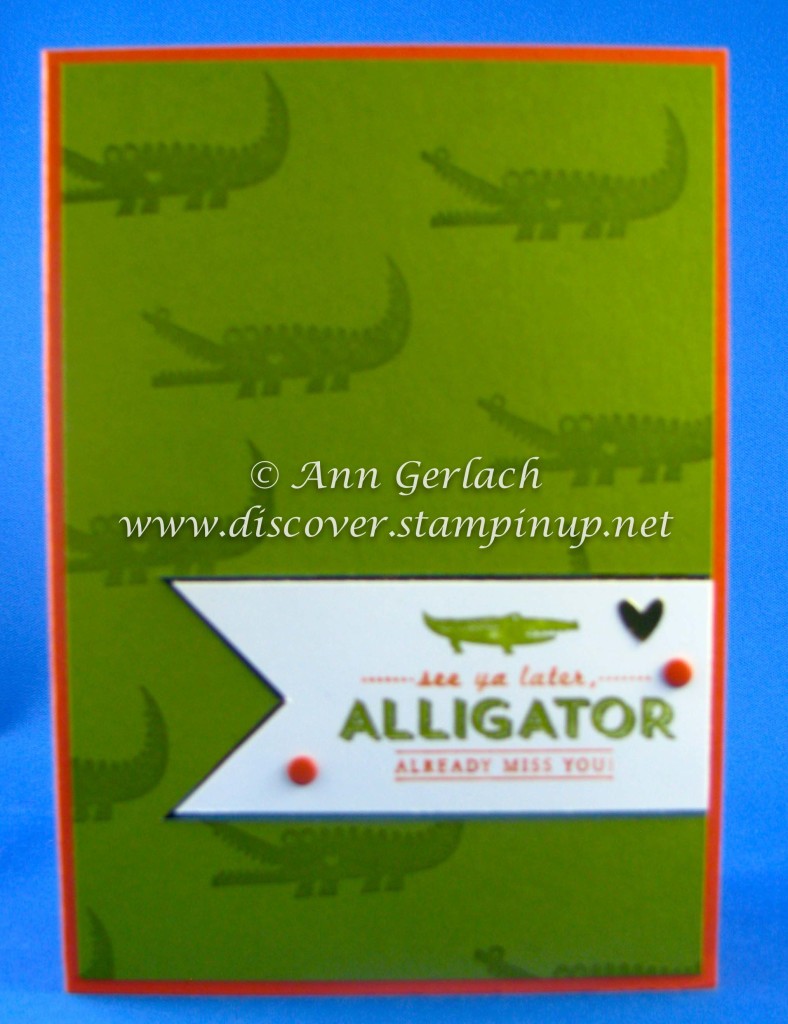 The second card features the cupcake punch and the decorative dots embossing folder (I love this Sale-a-bration item and it has the bonus of carrying over beyond Sale-a-bration), it is a clean and simple card using only one ink colour, my favourite Chocolate Chip.
This card was inspired by one of the artisan design team cards, but I switched it around a bit – the sentiment got cropped as there is a spelling discrepancy between north America and Australia, so rather than be annoyed by it – I cut it in half! The background was done using Gorgeous Grunge and the donut icing was highlighted with a stamp sponge with more chocolate chip ink. The donut circles were cut using the circles framelits on the magnetic plate.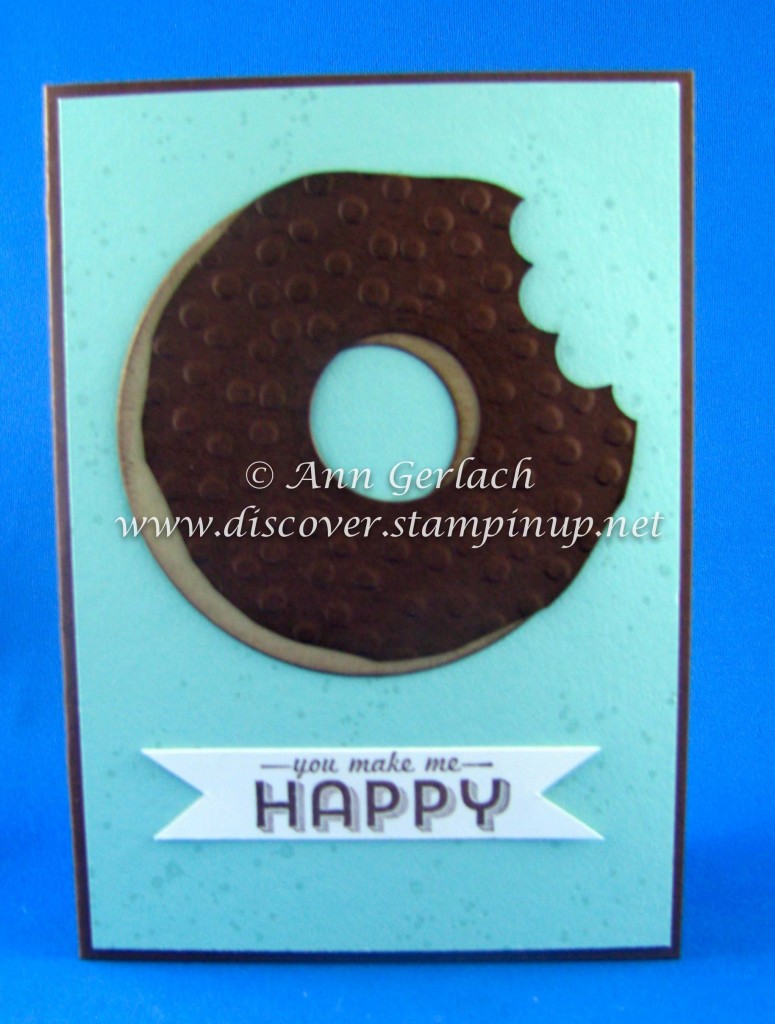 The final card also used the gold envelope liner & twine from the Good As Gold Sale-a-bration kit, the Banner Blast stamp set and the banner punch.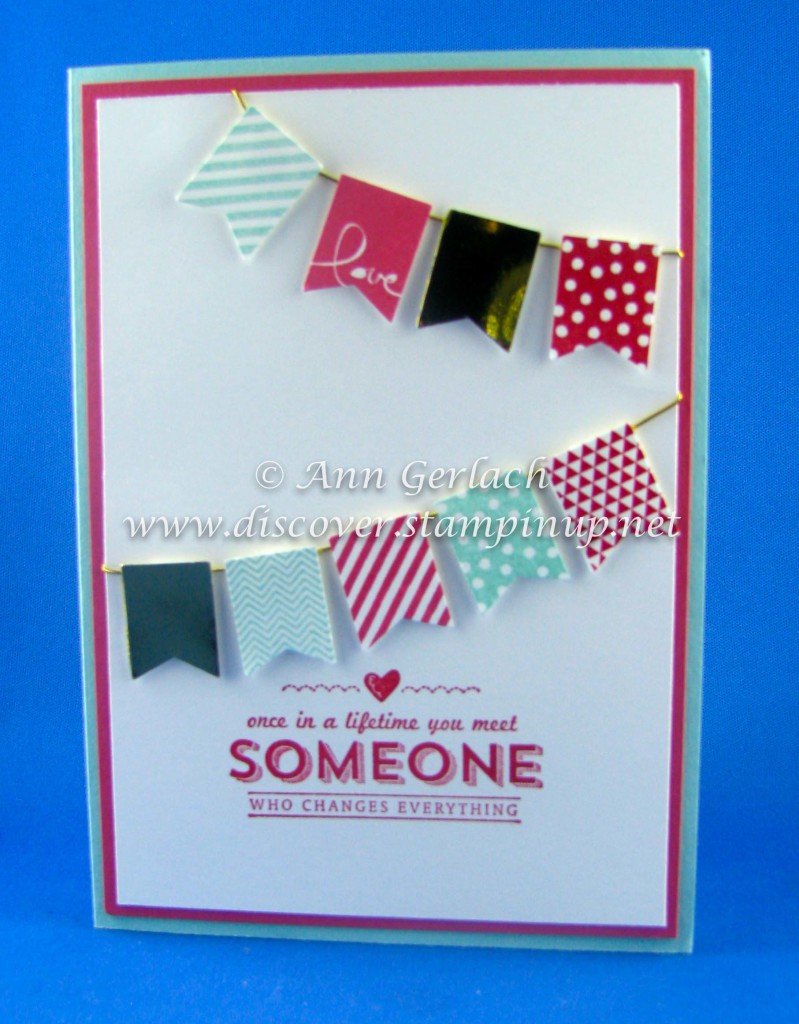 The first class back this term of Crafternoon Tea is all using Sale-a-bration items on February 4th  or you can join in the physical catalogue launch party here. If you would like a copy of the Sale-a-bration brochure please don't hesitate to contact me either commenting on this post, email gerlach@iinet.net.au or phone 0421 482 578. The next blog in the hop is that of an amazingly creative lady Delys, whom I had the pleasure of meeting and spending some time with both at the national Stampin' Up! convention last year and also in the USA at the Grand Vacation trip, so hop on over and see what she has made to inspire youhere.