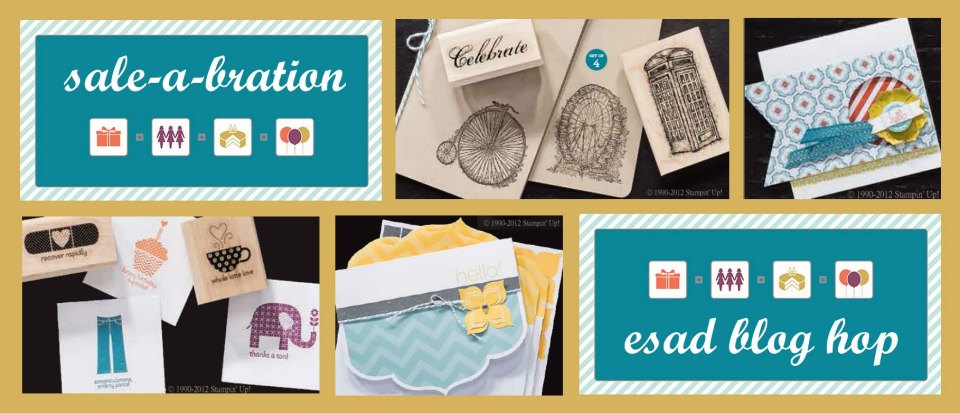 Welcome to another ESAD Blog Hop brought to you by 25 passionate Stampin' Up! demonstrators celebrating the arrival of the 2013 Sale-a-bration catalogue! What is ESAD? ESAD stands for "Extra Special Australasian Demonstrators" and it is an on-line group just for Australian and New Zealand Stampin' Up! demonstrators.
We so love what we do and not only do we love to share it with our customers, friends, and wonderful blog visitors, but we share our love for what we do with each other as demonstrators. We run swaps, challenges, tutorials, product know-how, and cyberstamps, and we are always there to help and support each other when it is needed.
So if you are a Stampin' Up! demonstrator located in Australia or New Zealand, then please feel free to click here to join our wonderful group.
If you have started the blog here or previously you would have come from Andrea's blog settle yourself in as there is a lot to see. This year there are 19 FREE items that you can chose from for each $100 you spend during Sale-a-bration, plus if you host a party you can get FREE silver glimmer paper – for all the details see my previous post here or if you want to come play with some of the new products I have a FREE catalogue launch party next Saturday.
I am loving all the new Sale-a-bration products and was inspired to make up a card and gift holder after picking up some jelly bean test tubes post Christmas at a local KMart store. I modified a template from Lisa S. to fit A4 card stock and the approximately 1″ diameter size test tube.

I decorated it using the new Sycamore Street designer series paper and ribbon, plus the Pretty Petite stamp on the front and top of the test tube – how awesome is it having a punch for free during Sale-a-bration!  I can't wait to make up different test tube holder for Easter or birthday treats.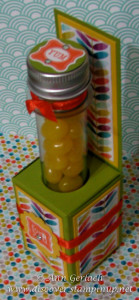 I made a matching card to go with the treat holder using the new Sale-a-bration Vine Street textured impression embossing folder and another new stamp set, Bloomin' Marvelous.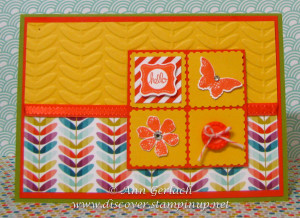 Then since I was on a roll with the colour scheme I also made up one of the Simply Sent cards – perfect if you want to make up a stack of nice cards quickly!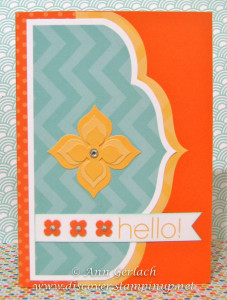 Stamps: Bloomin' Marvelous, Pretty Petites
Ink: Tangerine Tango
Card stock: Tangerine Tango, Whisper White, Sycamore Street designer series paper, Lucky Limeade, Daffodil Delight, Brights Patterned designer series stack.
Accessories: basic rhinestones, itty bitty punch, Bitty Butterfly punch, postage punch, Calypso Coral Bakers Twine, Sycamore Street ribbon and button, Petite Curly Label punch, 1″ square punch, 1″ circle punch, Simply Scored, Vine Street Embossing Folder
Okay so it's time to hop off now to the next talented stamper Jenny to see what she has created. If you have any questions about my creations or about joining Stampin' Up! or ESAD please leave me a comment.