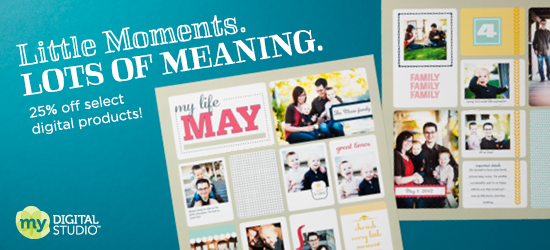 Well if you haven't taken advantage of the FREE 30 day trial of My Digital Studio (MDS) yet – I'd really encourage you to check it out via my new online store here as it's a lot of fun (the full version is just $24.95). Extra content can be downloaded for FREE and paid (starting at just $1.50), you can also get discs as hostess rewards or for normal purchase. The program works fine on both PC & Mac computers. Not a scrapbooker – well check out some other fun things to do with MDS
New digital content is released every Tuesday and as an awesome bonus From May 1st-June 15th you can get 25% off selected digital products including ALL ensemble, calendar, photobook and swatchbook digital content.
MDS  can be ordered  24/7 here – if you do use the hostess code Z46BFUFU and I'll add you into the draw for mystery hostess benefits (closes May 15th 2013).
If you aren't familiar with MDS or need some help – there are a swathe of You Tube training videos on it here or a dedicated online resource centre and forum here.