The exciting news of the week has been that Stampin' Up! are partnering with the amazing Becky Higgins to bring you the real deal-authentic Project Life products, in exclusive Stampin' Up! colours and designs.
If you've missed the Project Life craze and are wondering what it's all about, we'll fill you in: it's a super simple, totally affordable way to get your photos into albums: you just slip your photos into Photo Pocket Pages and add designed cards. It's a back-to-basics approach to documenting your life. In a nutshell, it's all about spending more time making memories and less time scrapbooking them.
We'll offer a complete Project Life product line in the new annual catalogue, available beginning 1 July. Of course if you are a demonstrator, you can get your hands on things at least a month prior to that. As more information becomes available I will let you know here, on my FaceBook Page, Twitter or via my newsletter (sign up top right of this page).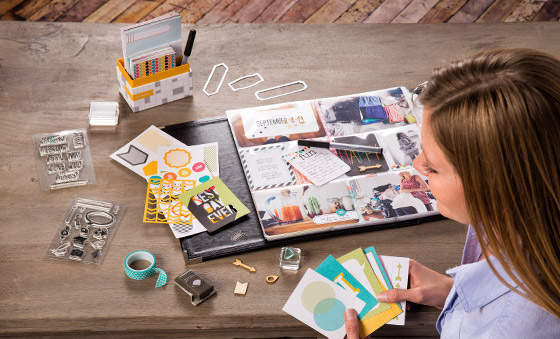 Frequently Asked Questions
Qu: What types of Project Life Products will Stampin' Up! offer?
Ans: You'll see Card Collections, Accessory Packs, Albums, Photo Pocket Pages, tools, other accessories and Stamps (hint see the picture above).
Qu: Are the card designs the same as what we can buy in the stores?
Ans: Nope! Stampin' Up! and Becky Higgins have worked together to design all new products that are super fun and a perfect match to our existing colour lines, which will make coordination a breeze. Some of the Photo Pocket Page designs are the same as what is currently available and some will be different and exclusive to Stampin' Up!
Qu: How do I buy these products?
Ans: From July 1st 2014 with the start of the new annual catalogue you can purchase these products directly through my website, or I can show you my samples if you come to my catalogue launch party in July or classes.
Qu: Are the products packaged the same as existing products (i.e. Core Kits, Mini Kits etc.)?
Ans: Most Project Life by Stampin' Up! products will be sold in Card Collections of 100 cards with 4″ x 6″, 4″ x 4″ and 3″ x 4″ card sizes included. Each card will be printed front and back, but there will not be duplicates of any cards in the set. All of the corners on the cards will be square (not rounded) on all if the Stampin' Up! Project Life cards as there is an awesome corner rounder punch. There will also be Accessory Packs available (sold separately) that will contain a variety of accessories to complement the Card Collection.
Qu: Will the Project Life by Stampin' Up! products be available in digital format?
Ans: Yes they certainly will be available digitally. More information will be available soon.
Qu: Why order through a demonstrator?
Ans: I offer in-home workshops, in-home classes, weekly classes with creche, monthly crop nights, fundraisers, catalogue launch parties and more.I can give you personal expertise and service, if you live further away you can still get the products delivered directly to your home.
Qu: Can I sign up to be a Stampin' Up! demonstrator so I can sell Project Life myself and make money doing it?
Ans: If you have decided that this is a terrific opportunity for you, you can sign up to join my team through my website here or read more FAQs about joining my Stampin' Up! family.