The new Occasions Catalogue and the Sale-a-bration Catalogues are now LIVE! Yes, you can view them both via PDF now by clicking on the images below.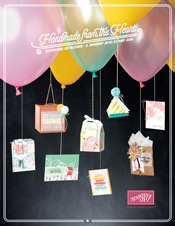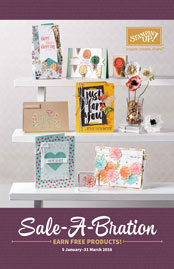 Both catalogues are packed full of amazing new products and inspirational ideas. The Occasions catalogue also contains a page of carry-over items from the Holiday catalogue (what is not included is the Woodland Textured Impressions Embossing Folder which although can't be ordered at the moment, will be making a return in the 2016-17 Annual Catalogue). There are also lots of opportunities to bundle and save in the Occasions Catalogue so look for the icons to indicate a 15% saving on the bundles.
Check out some of the amazing product suites in the new Occasions Catalogue here:
Here's a small selection of Sale-a-bration items to look at:
Anytime is a good time to shop for Stampin' Up! supplies, but for the next 3 months, it's even better! For those of you who aren't familiar with Sale-a-bration, please read on – also there are a couple of things happening this year that have not occurred in previous years with Sale-a-bration. Basically Sale-a-bration is from the 5th of January until the 31st of March and you can earn exclusive free items for shopping, bonus hostess reward dollars for having a get together with friends and another bonus amount for joining my team.
Shop!
With the new Occasions Catalogue as well as the Annual Catalogue I don't think anyone has a short wish list – so for every $90 you spend (including items in the Weekly Deals or Clearance Rack), you get to chose a FREE Sale-A-Bration product.
Note: Pages 4-15 of the Sale-A-Bration brochure show products available throughout the entire Sale-A-Bration sales period (5 January-31 March 2016); Pages 16-19 show limited-time products available only until 15 February.* Watch for another batch of limited-time products coming 16 February! (*Based on inventory, availability may be altered).


Host!
Want a fun excuse to get together with friends? Just host a qualifying party with at least $400 in sales during Sale-A-Bration and you'll earn $40  more Stampin' Rewards than normal! You can even apply your Stampin' Rewards toward a Starter Kit and become a demonstrator yourself! If you don't have time for an in-home party, you can host an online party or a catalogue party, ask me how.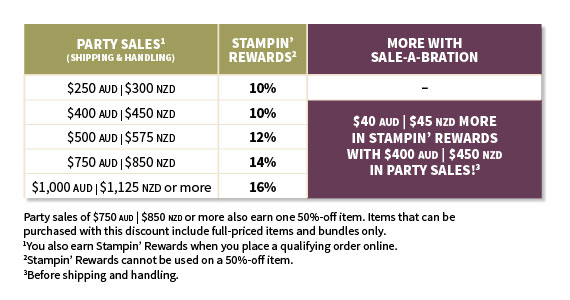 It's the best time of year to join Stampin' Up! During Sale-A-Bration, you can become a demonstrator for just $169 AUD and choose $60 AUD more of FREE products for your Starter Kit, so for just $169 you get to chose $295 of products! Plus, the kit ships for free. You can read about other benefits of joining my team here – including team meetings and personal support to run your Stampin' Up! business the way that suits your lifestyle.

If you would like to come and see some of the new products and have an opportunity to play with them, please join us for the Catalogue Launch Party on Saturday 16th of January where for just $5 you will take home 3 different stamped projects, copies of the catalogues, see inspiring displays, enjoy afternoon tea and more!